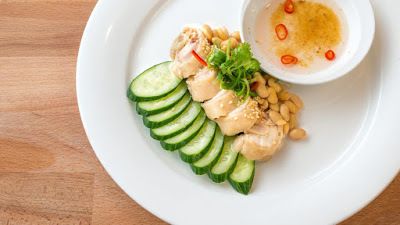 Try this quick and easy Chinese chicken roll recipe.
INGREDIENTS:
4 whole Chicken Thighs, deboned
1 teaspoon Fermented Yellow bean paste (Puning Taucheo)
1 teaspoon Sesame Oil
1 teaspoon Peanut butter
1 teaspoon Ginger juice

DIPPING SAUCE:
20 grams Grounded Blue ginger (Galangal)
4 tablespoons Rice vinegar
50 millilitres Water
1 tablespoon Sugar
1 Chilli padi, finely sliced

GARNISH:
50 grams Yellow soy beans, boiled and drained
Cucumber slices
Spring Onions, sliced
Coriander Leaves

METHOD
Mix bean paste and sesame paste together with ginger juice. Marinate the chicken pieces with this mixture.
On an inverted stainless steel prep tray, wipe with a damp cloth first and stretch a piece of microwavable cling wrap over the surface. Place a piece of marinated chicken on it and roll over Pull both ends tight and roll the chicken into a roulade. Lock both ends with a dead knot each and double secure with aluminum foil.
Steam chicken for 20minutes. Allow the chicken to cool down to warm temperature before cutting.
Combine ingredients for blue ginger dipping sauce and allow it to sit for 30-60mins minimum.
Slice the chicken and arrange on serving dish with boiled soy beans as base, garnish with spring onions and coriander. Serve dipping sauce on the side.